Artificial grass is a great way to save time, money and water ......
But there is a wide variety of products available, so choosing the best one can quickly become overwhelming.
Don't worry! We'll show you what to look for when buying artificial grass.
Our advice is to buy the best quality grass you can afford and always do your homework at the supplier to make sure you get the most out of your money.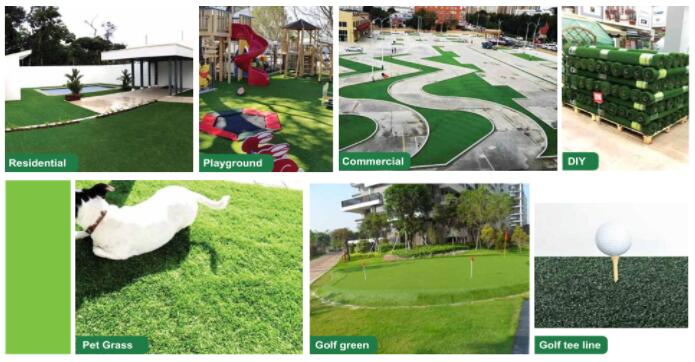 Color selection
When it comes to artificial grass, you will notice a wide variety of colors due to the many different shades of green found in real grass. Many manufacturers offer free samples , and it is highly recommended that you take full advantage of this before making any purchase decisions, as unfortunately you cannot rely on internet pictures to get a true indication of the color of the artificial grass you have chosen.
Place your samples side by side on the lawn and compare the color to your real grass. Many people prefer to choose the color that most closely resembles their current lawn.
If your garden is shaded and gets little sunlight, it is best to choose a light-colored artificial lawn because it will brighten up your garden.
What type of plastic are the fibers made from?
There are only three different types of plastic used to make artificial grass.
They are polypropylene, polyethylene and nylon (polyamide), each with different advantages and disadvantages.
Polyethylene is the most commonly used type of plastic fiber because it is usually a very good versatile material.
Nylon is by far the strongest fiber used in artificial grass manufacturing. It is 33% stronger than polyethylene and 26% stronger than polypropylene.
It is also 40% more elastic than polyethylene and 22% more elastic than polypropylene, both of which are softer fibers.
Nylon is naturally very abrasion resistant, but it is also more expensive.
The perfect combination of man-made fibers is to use nylon fibers to reinforce the lower thatch and then combine it with the longer polyethylene fibers.
For low-traffic areas, choose a lawn made entirely of polyethylene or polypropylene.
For frequently used areas, nylon outperforms and outlasts anything else, so in this case, choose a turf that includes nylon.
The thickness of synthetic fiber
The thickness of synthetic fibers is often overlooked when comparing artificial grass. However, this is one of the most important factors to consider. Natural looking artificial grass can only be achieved by having upright fibers.
When the fibers of fake grass are laid flat, we call it "matting". Matting can cause a lawn to look unnatural.
One of the main causes of matting is the fine fibers. While the artificial grass you choose may look good initially, heavy use will quickly break down the fine fibers.
When comparing artificial grass samples, break a fiber from each sample and compare the fiber thickness. The thicker the fiber, the better the performance. 200/99 micron fibers are considered very thick.
Pile height
Choosing pile height is usually just a matter of taste.
For those who like the look of freshly cut grass, anything between 25-30mm is a good choice. For a natural looking lawn, we recommend choosing anything between 30-38mm.
Anything longer than that and the fibers tend to lie flat under their own weight, not upright.
But for nylon artificial grass, we haven't noticed any difference in performance between 25 mm and 35 mm piles. This is due to the abrasion resistance of nylon.
Pile density
The higher the pile density, the more lush the grass will look.
False grass with low pile density looks sparse and thin.
For heavily used areas, we recommend choosing a dense pile between 16,500 and 18,000 stitches per square meter.
For low traffic ornamental lawns, you may want to consider a thinner lawn between 13,000 and 16,000 pins per square meter, as you may find this more cost effective.
View backing
Artificial grass backing is made up of a primary layer and a secondary layer.
The primary backing is the layer of material to which the plastic fibers of the artificial grass are sewn.
The secondary backing used in the manufacturing process is usually made of latex. This is basically the "glue" that holds everything together.
With lesser quality artificial grasses, these layers may separate due to the small amount of latex used.
It is easy to test how good the backing is by simply trying to pull the layers apart by hand.
The easier it is to do this, the lower the quality of the artificial grass.
It is important to use a large amount of latex, not only to prevent artificial grass from separating, but also to prevent yarn loss.
A small amount of latex means that the fibers can easily separate from the backing, causing the artificial grass to gradually become thinner and less shiny, and ultimately look unnatural.
Has it been tested for harmful substances?
You may have heard stories in the media about artificial grass containing harmful substances such as lead.
Unfortunately, in the past, some of these stories have been true.
Of course, substances such as lead can be extremely dangerous and have harmful effects on humans and their pets.
To further increase confidence, it is vital to ensure that any fake grass you choose has been independently tested and verified for harmful substances.
Is it fire resistant?
When choosing artificial grass, it is important to check with the manufacturer that it is fire resistant.
In the highly unlikely event of a fire, you need to be confident that flames will not spread through your artificial grass.
To check if your artificial grass is fire resistant, ask the manufacturer you choose if they have any industry certifications and if they comply with European regulations.
According to UNE EN 13501-12007, any flooring product, including artificial grass, can pass the Cfl-s1 assessment in the fire resistance test for fire resistant flooring.
It is highly recommended to ensure that the artificial grass you choose meets this standard, as it means that your grass will not spread if the worst happens.
Your budget and application
Artificial grass is very reasonably priced and cost effective no matter what you buy, but, as mentioned, you should always buy the best quality.
Think about how you will use the grass and what you typically do in your garden. For example, if you have children, you may want grass underneath play equipment, or if you like sports, you may want to draw lines to play games. If you have pets, you will want your grass to be pet friendly.
If you are feeling creative, you can choose a single color or even a multi-tone effect. By using different lengths of grass and densities, you will give your garden a more natural look and add depth to the finished look.
Have a professional install your artificial grass and follow these tips.
▷The faux grass roll is glued on in one section, with no visible seams.
▷Check the edge of the grass to make sure it is flush with the paving area and any decorative borders. There should be no visible gaps.
▷Be confident in your installer and ask for any changes to be made the same day or before you turn in final payment for the job. If there is a dispute, you should take photos so that you can dispute it with the management team.
We strive to be professional supplier, if you have any questions about artificial grass, please feel free to contact us.